CONFERENCE THEME
NAVIGATION














RELATED SITES


SEARCH

Conference Venues
L'Escola Superior de Música de Catalunya (ESMUC)

Created by the Autonomous Government of Catalonia in 2000, the Higher School of Music of Catalonia was established to train professional musicians. The school is an official institution offering a degree equivalent to that of a university. It is a centre which aims to reflect the diversity of the musical panorama in Catalonia, understanding music not only as a professional phenomenon but also as having a very important social dimension and function. The school was established on four key ideas: to provide a flexible curriculum which acknowledges the diversity of our social reality, to provide a common space for development of all fields of music study, to be an open institution which operates within national and international social contexts, and finally, to be a center for innovation by incorporating new technologies for teaching, creation and research. The school has a capacity of approximately 600 students, approximately 400 of which specialise in music performance.
For more information, please visit .
L'Auditori
For more information, please visit .
Metronom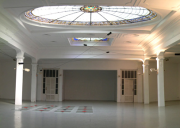 Metrònom was born in 1980 as a pioneering space to support work that was considered excessively experimental for the existant art galleries in Barcelona. Collector Rafael Tous' philosophy of offering a platform of support and production of work to the artist has been one of the fundamental goals of the space. The current space is located in an old commercial from the beginning of the 20th century, right in front of the old central food market. This space, remarkable for it's architecture, allows programming a wide randge of activities, focusing especially on multidisciplinary projects: installation art, photography, video, film, experimental music, contemporary dance and performance.

For more information, please visit .
Jaume I
França building

IMPORTANT DATES